Historical Tidbit
You must be a member to receive our full newsletter. Click here to become a member!
[excerpt from the WHHS Newsletter, April-May 2012 – pp.3-4]
by John D. Wilson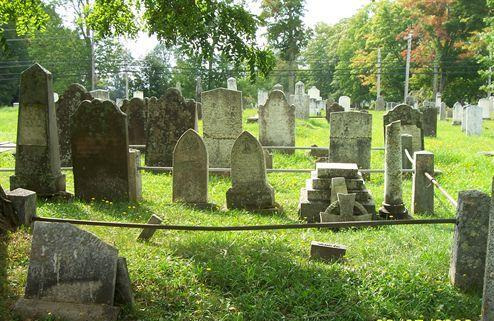 Near the top of the stairway leading to the Old Parish Burying Ground there is a unique headstone. Rather than standing, it is lying down, and not by accident, it was made that way. The inscription reads:
Thomas Edward Robinson, Esq.
A native of England G. B. & Contractor W. & A. Railway
Died April 11th 1869, aged 39 years
– – –
In ever loving memory of
Elizabeth Cleghorn widow of Thos. Edwd. Robinson Esq.
And daughter of the late Rev. John Weatherston
Died June 12, 1870, aged 30 years.
Not unusual but there is more to the story which was untold until now.
Thomas Edward Robinson and his partners, David Hawkins and Robert Kirkwood were civil engineers from Great Briton who won the contract to build the bridge that would carry the new Windsor & Annapolis Railway across the Avon River into the Annapolis Valley. As seems to be the case with most major projects in these parts the construction of the Windsor & Annapolis Railway was beset by financial problems. The partners had only two years to complete the bridge, but when the main contractors Punchard, Clarke and Barry defaulted, Robinson, Hawkins and Kirkland could not pay their suppliers and workers.
In April 1869, under financial strain, Robinson removed to Halifax with his wife and two sons to await the arrival on an Inman ship with the iron beams that would support the track and complete the Windsor Bridge. But the creditors were convinced that the contractors were preparing to leave Nova Scotia and their debts behind. Robinson and Kirkwood were arrested and thrown in jail until Hawkins could arrange to set them free. Robinson returned to Windsor where, suffering medically from the ordeal, he died on 11 April.
Greatly offended by what they considered the unjust treatment of their friend, Robinson's partners had a headstone erected in his memory with the epitaph:
A certain man went down from Jerusalem to Jericho
and fell among thieves. Here lies the man.
It is said that the epitaph created consternation and comment. Finally a judge pronounced that it was a reflection on the community and ordered a stone cutter to delete the scriptural quotation.
The space where the epitaph was removed can still be seen, but it soon served another purpose Elizabeth Robinson stayed in Halifax with her young sons, Thomas and F.R., where she received word that her father, Rev. John Weatherston, had died in England in June. Widowed and alone, Elizabeth made the decision to send her sons to England where they were to live with her sister, Margaret Day, the wife of a London accountant while she settled her husband's estate.
The boys sailed on the Steamship City of Boston, leaving Halifax bound for Liverpool on 28 January 1870. The ship and its passengers were never heard from again.
Elizabeth waited for months in Halifax hoping that the City of Boston might be sighted, perhaps adrift, perhaps as far south as the Azores, and that her sons would be found. Finally, two bottles drifted ashore in Nova Scotia containing messages that the ship had indeed hit an iceberg in the North Atlantic" some 42 years before the ill-fated Titanic.
But this news came too late for Elizabeth C. Robinson. She died on 12 June 1870, of disease of the liver, but surely also a broken heart, at age 30. Elizabeth's body was brought to Windsor where she was buried beside her husband.
And that blank space where the offending epitaph was removed? It contains her epitaph:
Each lonely scene shall thee restore.
For Thee the tear be duly shed,
Beloved till life could charm no more,
and mourned till pity's self be dead.
When the railway opened in August 1869, the bridge across the Avon River became an integral part and remained for many years a critical link in the Dominion Atlantic Railway.
I am indebted to Jay Underwood and the late Leslie Loomer for their research of this story. There is much more to the story which will be recounted by Jay Underwood in his forthcoming book Bridge of Sorrows.