Genealogy Research Services
Our library contains a large variety of resources including family histories, local newspapers, graveyard headstone inscriptions, school registers, community histories,… maps, photographs, etc.
Our research room is by appointment only on Wednesday's from March to July. In July, the research room is open Wednesday to Sunday.  Appointments are always recommended.  
Family Genealogies
Cemetery Records
Photographs
Scrapbooks:

Muriel Russell Sivwright
Mrs. Roy Boyd
Edythe Nelson

Family Bibles
Personal Collections:

Hind
Simpson
Townsend
Whittier
Palmeter

Insurance Maps
Deeds
Local Family Names – this list is constantly being added to, so if you have a specific name you're interested in please let us know!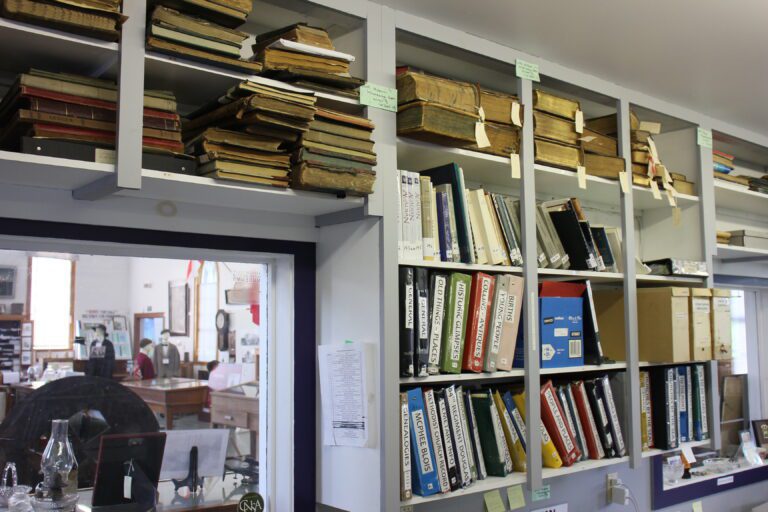 Histories of the Area
There are many resources right here on our website that you might find useful.
Research Fees
Research fees are one of our main fundraising methods for the upkeep of our building.
Fees to the Research Room are:
Members  – Free
Non-Members  – $7/day
Members  – w/assistance ½ hour fee
Non-Members –  w/assistance $20 / hour
E-mail Research Requests
$20 / hour (Members receive first 1/2 hour free)
email:  research@whhs.ca  Please indicate
Your Name (Please let us know if you are a member)
What you are seeking (Please be as specific as possible for a quote)
Your time frame
Any other information to help with the search/quote.
Cell Phone Photo Fee
Members/Non-Members – $2.00/day
Photocopying Fees
Members  – $0.20/sheet
Non-Members –  $0.30/sheet
Booking Research Time.
Book a time on our Calendar for your in Person Research Request at 281 King Street, Windsor, NS.
(Open Wednesday's Only until July)