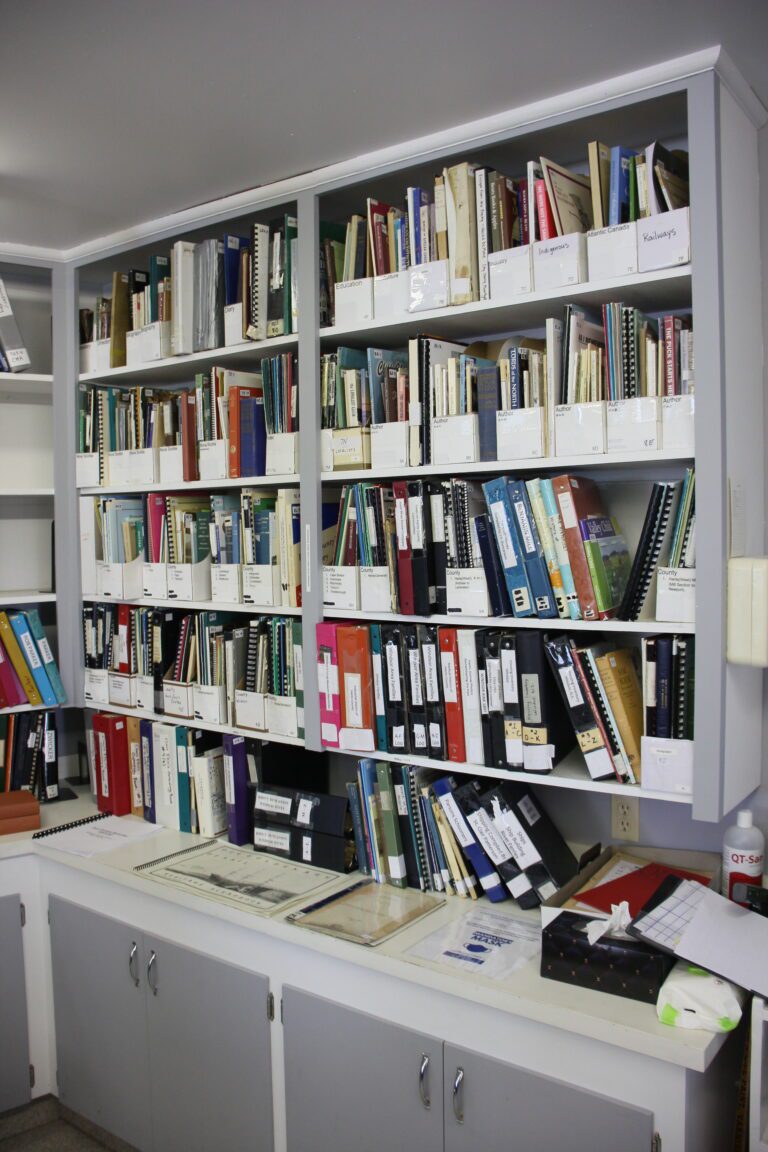 Our library contains a large variety of resources including family histories, local newspapers, graveyard headstone inscriptions, school registers, community histories,… maps, photographs, etc.
Our genealogy room's location and hours of operation are exactly the same as our museum. Operating seasonally and closed during the winter.
Family Genealogies
Scrapbooks:

Muriel Russell Sivwright
Mrs. Roy Boyd
Edythe Nelson

Cemetery Records
Photographs
Personal Collections:

Hind
Simpson
Townsend
Whittier
Palmeter

Local Family Names – this list is constantly being added to, so if you have a specific name you're interested in please let us know!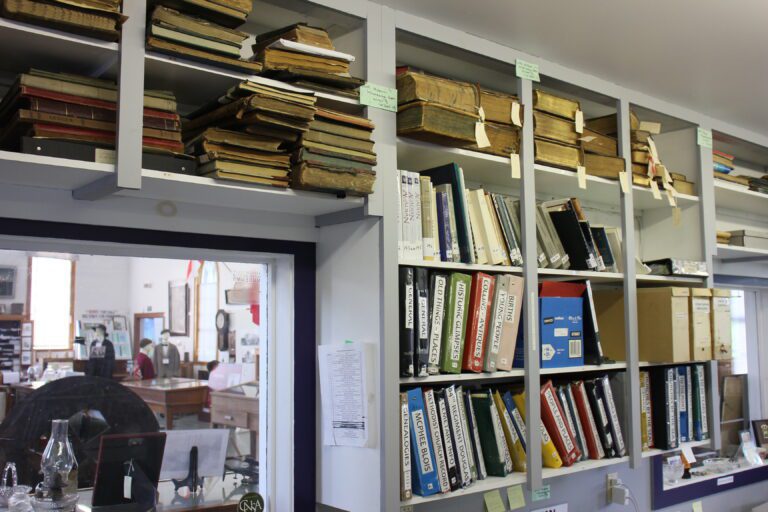 Histories of the Area
There are many resources right here on our website that you might find useful.
Fees and Facilities
Researching your family tree? Curious about some of the characters and sites that make Windsor famous?
Please note that research fees are one of our fundraising methods to keep up with maintenance costs on our building.
There is a charge of $10 per day for non-members (free for members) who come to the Society for a day of research.
Booking Research Time in Our Research Centre
The West Hants Historical Society Research Centre is open the same hours as our Museum. Please check our Contact Page for current hours.
There are two ways to book an appointment:
Here is the information we will need from you:
your full name
phone number
email address if applicable
date and time requested
the type of research you wish to conduct*
general information on the subject matter*
*This information will enable our staff to have pertinent material selected for you.
Please note that when you arrive at the Research Centre on the day of your appointment, you will be required to:
sign in and out on our register
sign a simple form stating that you have read and understood our COVID-19 safety protocols and agree to comply with them.
For more information please contact us at info@westhantshistoricalsociety.ca or phone 902 798 4706
Hired Research Services
For research requests sent to the Society, there is an initial 15-minute FREE search to see if we have any references pertaining to the surname in question.
Research fees:
$20.00 for the first two hours
$20.00 per hour afterwards
*Applicable photocopying charges will also be charged.
Anyone interested in any part of our collection, or those who have a specific research question, are encouraged to email our Research volunteers.