New Site
Welcome to the very first blog from the West Hants Historical Society (WHHS)! The West Hants region has such a vast and interesting past. It is our hope that by highlighting artifacts, photographs and various documents found in the WHHS collection this blog will serve to share some of these stories and spark your interest in times long gone.
Bridges of Avon
Since much of this area's history was shaped by the water it seems only fair to have the first blog topic relate to this theme. The WHHS has many photographs of the bridges that have spanned the Avon River.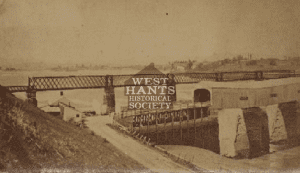 The photo here shows the Windsor Covered Bridge and Train Bridge and dates to sometime before 1887. Before the construction of a bridge across the Avon travel was more of a waiting game. One would have to wait for the tide to come in to cross by boat or risk crossing the sandy floor bed at low tide-neither being great choices for a traveller in a hurry.
The first petition for a bridge dates back to 1816 but the money was not produced. In 1821 the Nova Scotia Legislature authorized a lottery to try and raise money for a bridge; this lottery would also fail.
It would only be after many dealings that in April 1834 the Avon Bridge Company was formed and in 1836 Windsor would finally see the completion of its Covered Bridge. Measuring at 820 feet it would be Nova Scotia's longest covered bridge. In 1887 the Falmouth side of the bridge was set on fire and the bridge was destroyed. Despite being in a state of disrepair and overdue for demolishing it was still a great loss to the area. A new bridge would be built and served travellers until the 1960s.
Windsor citizens understood the importance of the railway and by the 1860s the railway systems across the province were being expanded. This enthusiasm would result in the construction of the first train bridge spanning the Avon River. Nicknamed the Basket Bridge, the first train would cross January 1, 1870 and notable Windsor citizen, Andrew Shand was a passenger. This bridge would serve the area until 1915.