The Life of Thomas Chandler Haliburton
by Mark MacGillivray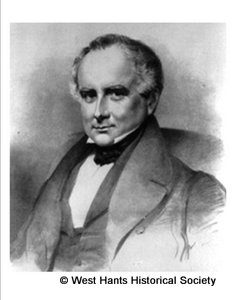 Thomas Chandler Haliburton was born in Windsor, Nova Scotia on December 17, 1796. He was the son of a known political figure named William Haliburton. His mother died as Thomas was only a year old, so he was raised by his stepmother named Susanna. Growing up in an aristocratic household, young Haliburton attended King's College from which he received a B.A. in 1815 at the age of 18, beginning his carrier which would eventually land him a job as a judge. Merely one year after receiving his B.A. he married a military captain's daughter, a woman named Louisa Neville with whom he had 11 children, 7 of which survived birth.
Sam Slick
He began his writing legacy in 1823 when he wrote a handout called "A General Description of Nova Scotia." He is especially remembered though for his famous literary Character "Sam Slick" who is a humorous Yankee clockmaker in Nova Scotia and is well known for his numerous sayings that are now familiar to most Anglophones, such as Fact is stranger than fiction and The early bird gets the worm.
Following the great success of Sam Slick, Haliburton became known as the "Father of American Humour." He eventually moved to England 1856 after retiring from his work. One of his highest honours was receiving an honorary degree from the University of Oxford for his writings. He continued his literary work until 1865 when he passed away.
Haliburton's sons did not pass down the family name, so unfortunately there are no surviving Windsor Haliburtons today. His legacy, however, still lives on throughout Windsor, Nova Scotia, where Sam Slick can be seen on signs and in artwork throughout the town.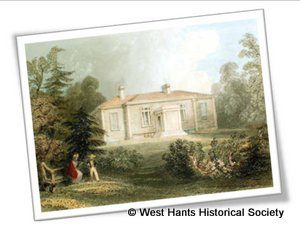 Related sites of interest: Haliburton House Museum website, Windsor West Hants Summer Fest website, Town of Windsor website

WHHS members receive our full newsletter. Click here to become a member!