Let's all go to the Fair!
Hants County Exhibition – 247th anniversary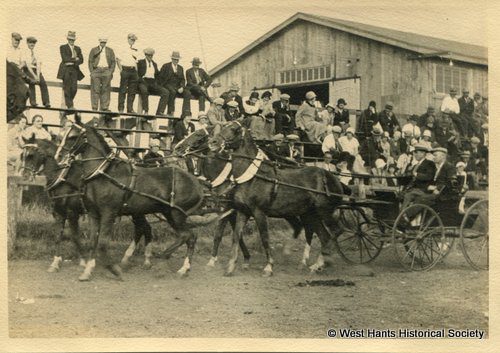 Crisp September days have arrived and that can only mean one thing: It is time for the Hants County Exhibition. With the first exhibition being held May 21, 1765, the Hants County Exhibition claims the title of the oldest agricultural exhibition in North America with this year marking its 247th anniversary.
The Royal Charter of 1765, which allowed for the holding of the fair, was granted to Isaac Deschamps, Winckworth Tonge, Charles Proctor, John Cunningham and John Butler in trust & to their heirs. For most of its history the exhibition was held on the grounds of Fort Edward. It was only in the 1950s that it moved to its current home at the Exhibition Grounds on Wentworth Road.
The first Exhibition
The first exhibition in 1765 featured exhibits of produce and livestock along with horse racing, wrestling and target shooting with prizes being awarded by wealthy Halifax businessmen. Prizes included:
person who brought the greatest number of horses: a saddle, a bridle and a medal.
person who brought the finest and largest cow: a butter churn and a medal.
best wrestler under 25 years old: a laced hat and a medal.
Some historical tidbits
One of the popular events in the early days of the exhibition was horse racing. Shortly after the first exhibition an oval track was constructed at Fort Hill. Unfortunately by 1771 the amount of gambling done at the event was so widespread that the governor decided to ban the races from the event.
The exhibition was held regularly for many years but discontinued briefly as the population of Windsor was not large enough to benefit from the event and many saw it only as an excuse for a day of idleness and intoxication. In 1815 another Royal Charter was issued allowing the people of Windsor to hold the annual fair and it has been running almost continuously since this time.
The Hants County Exhibition of today
The exhibition today may have a major contrast to the exhibition of those early years with the inclusion of such things as a Ferris wheel and cotton candy. However, at its heart, the same values still hold true. It's a celebration of a way of life that has survived through the generations in this area that should be remembered and honoured.
The Hants County Exhibition runs for two weekends, Friday through Sunday, Sept 15-17 and Sept 21-23, 2012.