The West Hants Historical Society is pleased to announce that it will be open this summer from 9am-5pm Tuesday-Saturday beginning June 30, 2020.
COVID-19 safety restrictions will apply.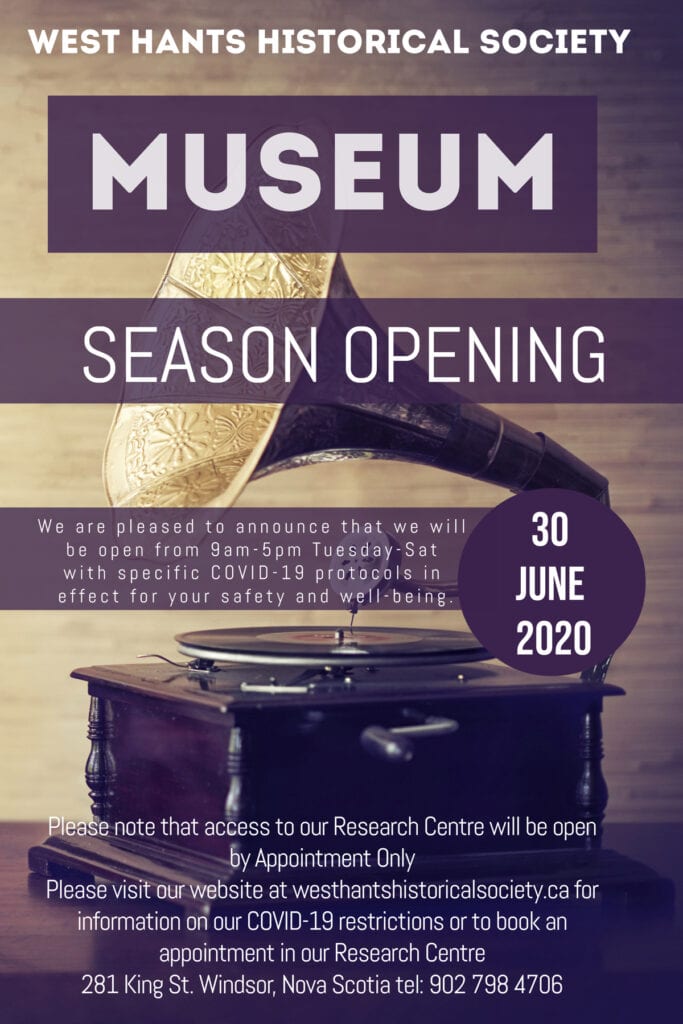 What you need to know:
Visiting the Museum
No more than ten (10) persons will be permitted in the museum main gallery at one time
Social distance must be practised at all times
You will not be permitted to touch display cases and other surfaces
Our Interpreter will not be able to physically guide you through our exhibits but will be on-hand in the reception area to answer questions and provide information
All adults will be required to be signed in and out and be aware of our safety protocols
Visiting our Research Centre
The West Hants Historical Society Research Centre will be open between 9-5 daily on Tuesdays-Saturdays from 30 June 2020-15 August by appointment only.
After 15 August time can be booked on Wednesdays only.
 The maximum time allotted per session will be two (2) hours.
The maximum number of persons permitted in the centre at one time will be five (5)
*We will not begin taking requests until Thursday, June 25th 2020
Booking Research Time in Our Research Centre
(we will not begin taking requests until Thursday, June 25th 2020)
There are three ways to book an appointment:
Here is the information we will need from you:
your full name
phone number
email address if applicable
date and time requested
the type of research you wish to conduct*
general information on the subject matter *
*this information will enable our staff to have pertinent material selected for you.
Please note that when you arrive at the Research Centre on the day of your appointment, you will be required to:
sign in and out on our register
sign a simple form stating that you have read and understood our COVID-19 safety protocols and agree to comply with them.
For more information please contact us at info@westhantshistoricalsociety.ca or phone 902 798 4706