Courtesy of Rev. David Curry. This is a modified version of an article that first appeared in the Hants Journal in 2008.
[caption id="attachment_1545" align="alignright" width="150"]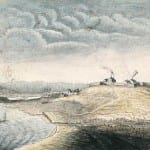 Fort Edward, 1753, by Capt. John Hamilton.[/caption] Strategically placed, overlooking the confluence of the St. Croix and Avon Rivers, the Blockhouse has played
President's Message
by John D. Wilson
Summer has all too quickly passed. Here at the Museum we mark this passing with the return of our summer guides to their studies. We were pleased again this year to provide summer employment for young people from the community. Again this year we were blessed with intelligent, enthusiastic and courteous guides. Several visitors commented favourably on their experience in working with these young ambassadors. We wish Fadila, Kelsey, Logan and Chad the best in their studies. [caption id="attachment_2592"